Attention: Judy is teaching in Shanghai Spring 2018! We will ship your BreadPot order as we are able while they last. After that, your BreadPot will be made and included in the summer firing.
Our BreadPots are designed for baking no knead bread.
Order your BreadPot here
"My BreadPots are designed for baking no knead method breads.  Originally, I came to this simple, accessible method  after  Mark Bittman and JimLahey  popularized it in the New York Times in 2006, thereby teaching us tall he basic skills to make easy, tasty, crusty beautiful bread with ease. I believe that this is a basic life skill so I do what I can to encourage it." jm
You can use your BreadPot for any yeast or sourdough bread recipe. If you are new to baking bread I recommend searching the internet for endless variations and opinions about this method. Or you can do as I do, keep it simple and find a method that works for you, then experiment."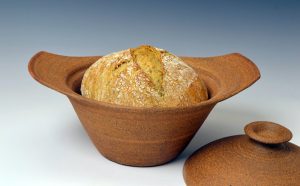 Judith (Judy) Motzkin,  a potter for over forty years, hand throws each BreadPot on the potter's wheel. "I hope my pots have an elegant flair and personal style in addition to being simply functional." She makes the BreadPots from stoneware clay, fired  in a gas kiln to high temperature (2350 F/cone 10)
These pots are strong and hold heat like a brick oven. The handles are integrated and safe to use with an oven glove while hot. The BreadPot form gives an even round well-shaped loaf. Some are incised with bread related quotes, sayings, proverbs and /or recipes. Some have brushwork on top or a smoky interior.  BreadPot customization is available for a small  charge. "I like working at a scale that allows me to make each pot different and unique even as I am enjoying the pleasures of the production process."
"My studio is in an old stable, behind my house, the oldest in the immediate neighborhood, in the lovely Cambridgeport neighborhood. I do the first firing in an electric kiln in Cambridge, making them strong enought to transfer to my gas fired kiln in the woods of Wellfleet on Cape Cod."
Please watch Fire-Clay-Flour from Edible Boston, Fall 2012
The parallels  between bread baking and pottery making are highlighted in this beautiful video. The video was made in conjunction with an article published in the magazine and had received great response. I am grateful to have my hands and work shown here.
FIRE-CLAY-FLOUR, article by Andrew Janjigian, photos and this video by Michael Piazza
BreadPots — Judy Motzkin Studio —  Cambridge and Wellfleet, MA
Contact: breadpots@gmail.com
617  547  5513