BreadPots designed for baking no knead bread.
Order a BreadPot here.
BreadPots are designed and made by Judith Motzkin for baking no knead method breads. This simple accessible method was popularized in 2006 by Mark Bittman and Jim Lahey in the New York Times enabling us to bake easy, tasty, crusty, beautiful bread every time.
Each BreadPot is hand thrown, made from high fired stoneware clay, it is strong and holds heat like a brick oven. Its handles are integrated and safe to use with an oven glove while hot. The BreadPots form gives an even well-shaped loaf. Simple and beautiful. Some are incised with breadquotes, recipes or brushwork on top. Breadpot customization is available for special occasions. More about options and variations.
Watch Fire-Clay-Flour from Edible Boston, Fall 2012
The parallels  between bread baking and pottery making are highlighted in this beautiful video.
FIRE-CLAY-FLOUR, article by Andrew Janjigian, photos and this video by Michael Piazza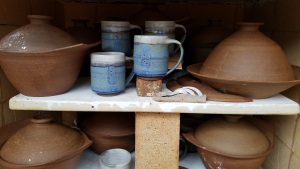 BreadPots — Judy Motzkin Studio —  Cambridge and Wellfleet, MA
Contact: breadpots@gmail.com
617  547  5513