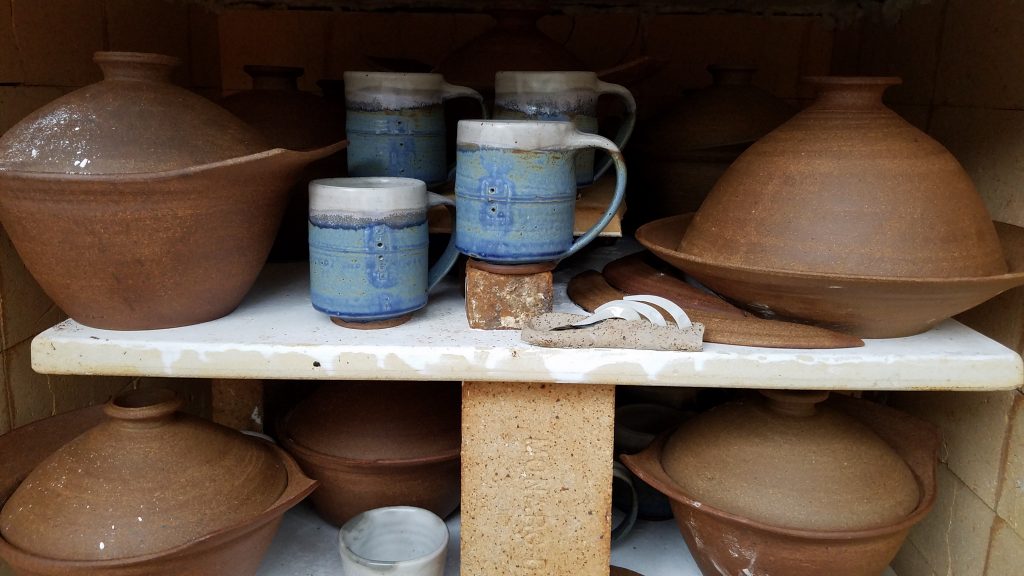 I should have had these BreadPots made weeks ago, but with a conspiracy of travel, a computer failure, and an injured shoulder, I am running late. I sold the last one just as i was firing up this batch last week.  So, here they are, complete, for any one who wants one.  After I ship out all that were pre-ordered, there will be 12 left. I will be in the studio this week for drop in for these and any other work. I have some gorgeous saggar flame painted pieces too.
I just cracked open the kiln. There they are and I can't touch them yet. Too hot. They came out of rich dark color. The white powder is alumina used for keeping the lids from sticking at 2350F/1300C. There are twenty BreadPots in this load. I will post, once they are out about what I have…plain, smoky, recipe, breadquotes. The mugs you see are special order.
Here are the two with a rye bread recipe inscribed. One has J's Rye recipe alone, the other has Rye Bread and also a quote.