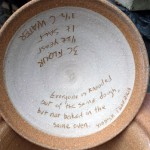 Here's an offer for BreadPot followers:
Option 1:
I now have three BreadPots available that are inscribed under the lid with both a recipe and a quote or saying. The available  quotes are:
"Good bread and fresh butter, the greatest of feasts" James Beard
Here's to baking bread for many years to come.
"Peace goes into the making of a poem as flour goes into the making of bread" Pablo Neruda
These are regularly $190. I am offering $10 discount on these three ready to ship pieces. Make your choice from the drop-down menu below or contact me.